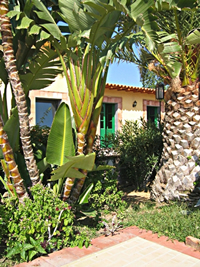 Castello D'Urso Somma
Via S.Giuseppe La Rena 15
Catania
Sicily
95121
Contact: Santuzza D'Urso Somma
Tel No: +39 340 15 14 880 or +39 095 713 9145
Fax No: +39 095 754 52 54
Type: B&B
Bedrooms: 10 rooms, all ensuite
Open: Most of theYear
Prices: 90,00 - 140 euros, all year round, per room per night. Min stay 2 nights in Summertime, Easter.
Rating: 3* Local Tourist Board.
Facilities: Swimming pool, parking, guest laundry facilities, cot/highchair available (please request upon booking)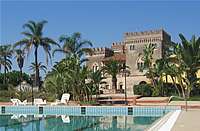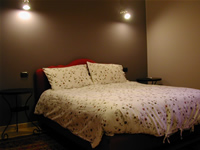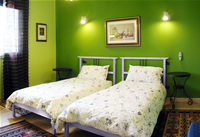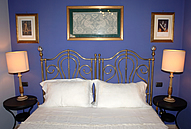 Set in it's own gated gardens, with palms and trees,Castello D'Urso Somma is a charming, family run Bed and Breakfast. The 10 rooms, all en suite, are in groups of five, housed in 2 self contained properties around the historic Castle, providing access to a kitchen in each of the properties that opens up onto a large patio area.
The rooms are spacious and comfortable all of which feature bright, modern decor with antique Sicilian-style furnishings. Amenities include air conditioning/heating, cable television and desks. Private bathrooms offer hair dryers on request. Sorry, smoking is not permitted indoors. Breakfast is provided in the kitchen/common breakfast room which offers a coffee machine and a microwave, complete with a fridge, available at all times.
There is a seasonal outdoor pool (usually opened from the 2nd half of May until the end of September although dates vary according to the local weather) surrounded by palms and complimentary onsite parking. Sorry, the property does not have a restaurant or bar, but there are plenty in the centre of Catania Castello D'Urso Somma B&B is conveniently located for guests who want to spend a day at the beach or go in to town for shopping.It is 300 metres from the beach, 6 min by car from Catania Fonatanarossa Airport and 8 kilometres from Catania old city centre. There are no pavements though, so walking is not advisable. Besides, when you have a car (reccomended choice), the location is perfect as a base to explore Sicily, especially when you consider that Agrigento is 2 hours away, Siracusa an hour, as are Taormina and Etna . 3* Local Tourist Board. Please note 3* is the max award available from the Sicilian Local Tourist Board.
Cancellation Policy: If you wish to proceed and confirm your booking, a deposit of 1/3 of the total price payable with a Bank Transfer or Credit Card (VISA, Mastercard only) will be required. Bank account details will be supplied at the end of the reservation process. The deposit is not refundable. GUESTS ARE STRONGLY ADVISED TO TAKE OUT APPROPRIATE HOLIDAY CANCELLATION INSURANCE